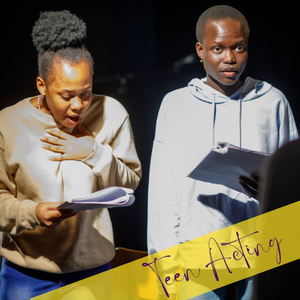 The Black Lady Theatre
Intro to Acting I for Teens
Sale price Price $900.00 Regular price
Is your teenager bubbling with creativity and a flair for the dramatic? Do they dream of taking center stage and bringing characters to life? Look no further! Our exhilarating 6-week course, "Intro to Acting 1," is the perfect opportunity for your aspiring young actor to shine. The course begins on September 10, 2023, and runs every Sunday from 11:00 am to 1:00 pm.
Course Overview: In this exciting journey into the world of acting, your teenager will embark on an exploration of theatrical expression, building a solid foundation for their future acting endeavors. Whether they're a complete beginner or have some prior experience, this course is designed to meet them at their skill level and take them to new heights.
What to Expect: Every Sunday, from 11:00 am to 1:00 pm, your teen will be immersed in thought-provoking theater exercises, where creativity knows no bounds. Led by our experienced and passionate acting instructors, they'll participate in dynamic exercises, games, and scene work that will sharpen their acting skills and ignite their imagination.
Throughout the 6 weeks, they'll delve into a range of fundamental acting techniques, including:
Character Development: Your teen will learn the art of creating authentic and compelling characters, understanding their motivations, and making them truly come alive on stage.

Emotional Expression: They'll explore the vast spectrum of human emotions, learning to tap into their feelings and convey them convincingly in their performances.

Improvisation: Unleashing their spontaneity and quick thinking, they'll engage in fun improvisational games and exercises, honing their ability to think on their feet.

Voice and Movement: Your teen will discover the power of their voice and body as instruments of storytelling, enhancing their stage presence and delivery.

Scene Study: Through working on scripted scenes from classic plays and contemporary works, they'll develop interpretative skills and learn to work in unity with their fellow actors.
Why Choose Our Course: We believe that the transformative power of acting extends beyond the stage. Not only will your teen gain invaluable performance skills, but they'll also develop self-confidence, empathy, and effective communication abilities that will serve them well in any path they choose to pursue.
Don't miss this incredible opportunity to let your teen's true potential as an actor shine. Spaces are limited, so secure their spot in "Intro to Acting 1" now, and watch them embark on an unforgettable journey of self-discovery and artistic growth.
Course Details:
Duration: 6 weeks (September 10, 2023, to October 15, 2023)
Schedule: Every Sunday from 11:00 am to 1:00 pm
Age Group: Teens (ages 13 to 18) *Pre-teens welcome - please email to inquire*

No prior acting experience required.
Give your teen the opportunity to step into the limelight, express their creativity, and let their inner performer shine in "Intro to Acting 1" with TBLT.